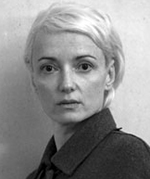 Clairemarie Osta is the first prize winner from the Conservatoire regional de Nice,"Championne de France" of Tap dance at 12 years old, a first prize winner at the Conservatoire Supérieur de Paris in classical dance.
Clairemarie joined the Paris Opera Dance School in 1987 and then the corps de ballet in 1988.   She was nominated "Danseuse Etoile" of Paris Opera in 2002. She worked with Rudolf Noureev, Carolyn Carlson, John Neumeier, Jiri Kylian and Jerome Robbins.  Many choreographers have created for her. Roland Petit created the role of Mary in Clavigo, Angelin Preljocaj the role of awakening in Siddhartha, Benjamin Millepied Amoveo, Mats Ek Apartment, William Forsythe Pas Parts, for JC Gallotta she will be the fiancée of Nosferatu and the Moon of the Caligula of Nicolas Le Riche.  In 2008, she is Anaïs Nin in the short film by Clara Ballatore "Anaïs rushes".  In 2012, a documentary titled "Les Adieux" retraces her last role on the stage of the Paris Opera in "The Story of Manon" by Kenneth McMillan.In 2013, Clairemarie Osta was appointed a director of choreographic studies at the Conservatoire Superieure de Paris.In 2014, she dances "M. & Mme Rêve "by Marie-Claude Pietragalla and JulienDerouault and travels through France with the show" Itinérances "directed by Nicolas Le Riche. For his carte blanche, he creates for her at the Théâtre Deschamps-Elysées the solo "Une Aprés-midi …" on the music of Debussy and the duo "Odyssée" on the music of Arvö Part which is the subject of 'A short film directed by Vincent Pérez and released in 2016.In 2015, she is a co-founder of LAAC – L'Atelier d'ArtChoregraphique at the Théâtre des Champs-Elysées founded with Nicolas Le Riche.  Clairemarie Osta chairs the jury of the Nijinski Competition in Deauville and participates in those of Lausanne and Berlin.  In 2016, with Nicolas Le Riche, she presented "PARA-ll-ÈLES", a poetic show set to music by Matthieu Chedid in Paris and then touring at the festival Le temps d'aimer in Biarritz, Arcachon and Saint Germain en Laye. The dancers ofLAAC COMPAGNIE have joined them on stage for a new version.Clairemarie Osta and the dancers of the LAAC participate in the dance conferences at the VUITTON Foundation under the direction of Nicolas Le Riche.
LAAC performs and presents its programs of creations on the stage of the Conservatory of Aix en Provence in January 2017 before performing at the theater of Champs Élysées in June 2017.
Clairemarie Osta is a "Chevalier Dans l'Ordre de La Légion d'Honneur et Des Arts et Des Lettres"