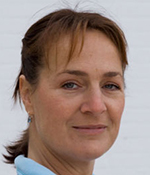 Born in Stockholm, Sweden, Monica began her dance training at the age of 4 at Madame Lilian Carina´s Ballet school. At the age of 8, she participated in Birgit Cullbergs ballet Medea and was by then already touring with the Cullberg-company to Italy, Island, England and in Sweden. Monica continued her education at the Royal Opera Ballet school in Stockholm while dancing as a student in the Royal Opera´s productions of Miss Julie, Romeo and Juliet, Swan Lake, Giselle, Onegin etc.
In 1978 Monica became a member of the Cullberg Ballet under the leadership of Birgit Cullberg and Mats Ek where she got original parts created for her. She also participated in most of Mats Ek´s TV-Productions such as The House of Bernarda, Giselle, Sleeping Beauty, Swan Lake and in Birgit Cullbergs Miss Julie.
As a dancer, Monica has worked with choreographers such as Birgit Cullberg, Mats Ek, Jiri Kylián, William Forsythe, Ohad Naharin, Carolyn Carlsson etc.
After touring all over the world with the Cullberg Ballet Monica retired in the year 2000 but continued to perform at The Royal Dramatic Theatre of Sweden in Mats Ek´s plays Andromaque and The Ghost Sonata and in his opera performance Orphée at The Royal Swedish Opera.
To further extend her dance practice Monica studied Dance Pedagogy in Classical Ballet/Vaganova at DOCH (The School of Dance and Circus) in Stockholm.
In 2003 Monica was appointed as Balletmaster at Skånes Dansteater in Malmö. Here she met the choreographer Didy Weldman and a working relationship commenced in which Monica acted as Choreographer Assistant setting up Tender Hooks, Cendrillon, and Peter and the Woolf in Gothenburg, Montreal, Amsterdam, and London.
Since 2010 Monica's experience as a pedagogue stretches from work as a teacher at The Royal Swedish Ballet school, to freelance pedagogy with for example UDK (The Youth Company) in Helsingborg, to a range of répétiteur work such as assisting Mats Ek in the productions of Giselle and Sleeping Beauty. Her latest assignments as a répétiteur were in collaboration with Ana Laguna for the production of Miss Julie at The Paris Opera in 2014, and in 2015 at The Royal Swedish Opera with Mats Ek´s Swan Lake.