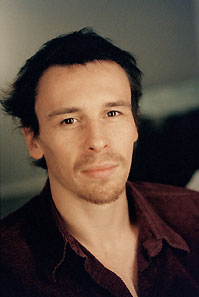 Director, Royal Swedish Ballet, Stockholm
Director of the choreographic art center LAAC since 2016
Profile
Nicolas Le Riche began dancing in Pontoise with Pierre Schwarz with whom he spent two years. He was then accepted at the École de Danse du Ballet de l'Opéra National de Paris (Ballet School of the Paris National Opera), where he studied for six years under the direction of Claude Bessy. He then joined the Ballet de l'Opéra National de Paris (Paris National Opera) where he worked his way upward winning multiple competitions: Quadrille in 1998, Choryphée in 1989 (1st prize), Sujet in 1990 (1st prize), and 1er Danseur in 1988 (1st prize). He was named Principal Dancer in 1993. As an opening performer, he has worked with the greatest classical Masters as well as the leading contemporary choreographers at the Opéra de Paris (Paris Opera) and the most celebrated opera houses in the world including the Royal Opera House, the Bolshoï, the Kirov, La Scala in Milan, the Royal Danish Ballet, the New York City Ballet, etc.
Experience
Classical Repertory (roles exclusive to Principal Dancers)
Giselle (Coralli-Perrot), Swan Lake, Sleeping Beauty, Raymonda, La Bayadère, Romeo and Juliet, The Nutcracker, Don Quixote (Noureev), La Sylphide (Lacotte), La Fille Mal Gardée (Ashton), Napoli (Bournonville), Le Spectre de la Rose (Fokine), l'Après-midi d'un Faune, Till Eulenspiegel (Nijinkski), Ivan the Terrible, Spartacus (Grigorovich), Grand Pas Classique (Gvoski), Etudes (Lander), Suite en Blanc, Les Mirages, Icarus (Lifar), The Train Bleu (Nijinska), Petrouchka (Fokine), l'Histoire de Manon (MacMillan), Eugene Onegin (Cranko), Cinderella (Noureev), Margeurite et Armand (Ashton)…
Neoclassical Repertoire
Le Palais de Cristal, Les Quatre Tempéraments, Apollon Musagète, Le Fils Prodigue, Allegro Brillante, Joyaux, Agon (Balanchine), La IXème Symphonie, l'Oiseau de Feu, le Boléro, Serait-ce la Mort ?, Symphonie pour un homme seul (Béjart), Le Chant de la Terre (MacMillan), Dark Elegies, Jardin aux Lilas (Tudor), A Midsummer Night's Dream, Vaslaw, Magnificat, IIIème Symphonie de Mahler (Neumeier), Le Jeune Homme et La Mort, Les Forains, Notre Dame de Paris, l'Arlesiènne, Carmen, Le Rendez-vous (Petit), In the Night, Glass Pieces, Dances at the Gathering, En Sol, A Suite of Dances, The Four Seasons, Afternoon of a Fawn, The Cage, Other Dances (Robbins), Ancient Airs and Dances (Tanner), Sinfonietta (Kylian)…
Contemporary Repertoire and Creation
Wuthering Heights, Les Épousés,(Belarbi), O zlozony / O composite (Brown), In the middle somewhat Elevated, Rearray, Pas./Parts. (Forsythe), Giselle, Appartement, A sort of (Ek), Doux mensonges (Kylian), Attentat Poétique (Larrieu), Ein Herz (Morrris), Amoveo (Millepied), Sylvia (Neumeier), l'Allegro, il Penseroso ed il Moderato (Orlin), Voilà c'est ça (Ullate), Camera Obscura, Le Guépard, Clavigo (Petit), Casanova, Siddharta (Preljocaj), Le Martyre de Saint-Sébastien (Wilson), 14th July (Belingard), Life (Le Riche), Arastre, Rouge Poisson, Le Carnaval des Animaux (Darde), As time goes by (Tharp)…
Choreographers who have created for Nicolas Le Riche
Mats Ek, Jiri Kylian, William Forsythe, Daniel Larrieu, Robyn Orlin, Kader Belarbi, Marie-Claude Pietragalla, Roland Petit, Angelin Preljocaj, Benjamin Millepied, Trisha Brown, John Neumeier, Rudolf Noureev, Russel Maliphant, Jérémie Bélingard, Pierre Darde, Twyla Tharp, Victor Ullate…
Filmography
He has appeared in several films including: Narta (TV commercial, 1989), Nicolas Le Riche (de Jérôme Laperrousaz, 1998), Tout près des Étoiles (Nils Tavernier, 2000), Aurore (Nils Tavernier, 2006), Place Stanislas (Jérôme Laperrousaz, 2000), Sur le Fil (Françoise Ha Van Kern, 2009), The Diving Bell and the Butterfly (Julian Schnabel, 2007), and Un baiser papillon (Karine Silla-Perez, 2011).
Ballet Films: Sylvia, Ivan the Terrible, Appartement, Clavigo, Notre-Dame de Paris, Carmen, Le Jeune homme et la Mort, Le Train Bleu, O zlozony / O composite, Le Boléro, Caligula, Raymonda, Grand Pas Classique, In the Night, A Suite of Dances, RVB 21, Marguerite et Armand, Odyssée
In 2008, Anne Deniau wrote a book about him entitled Nicolas Le Riche.
Additional Dance Studies
In France, Nicolas Le Riche has studied classical dance with Serge Peretti (1st Principal Dancer with the Opéra de Paris), Max Bozzoni, Christiane Vlassi, Daniel Franck, Lucien Duthoit, Gilbert Mayer, Serge Golovine, Serge Perrault, Christiane Vaussard, René Bon, Attilio Labis, Cyril Atanassoff, Noëlla Pontois, Ghyslaine Thesmar… He has studied outside of France with Youri Gregorovitch, Asaf Messerer, Maris Liepa, Boris Akimov, David Howard, David Allen, Anthony Dowell, Franck Andersen, Loïpa Aroyo… He has also studied with Claire Beaulieu (Martha Graham), Trisha Brown, Russel Maliphant (danse contact), Christopher Roman (Improvisations), Jessica Sordoillet (yoga), Monica Germani (Pilates), and improvisation work with Jill Johnson as well as composition with Neal Beasley…
Additional Performances & Skills
Film actor in productions by Julian Schnabel (Golden Globe Award 2008), Karine Silla-Perez and Nils Tavernier.
Choreographer: RVB 21, Caligula (2005), Écho (2011), Vol, -M- au 104 (2014), Life (2012), Odyssée (2013), Une Après-Midi (2014), PARA-ll-ÈLES (2016), Sur la grève
(2017)
Assistant to Gao Xingjian (winner of the Nobel Prize in Literature 2000) at the Comédie Française (2003) for Quatre quators pour un week-end
Actor in the theatre play by Camus « Huis-Clos » (Tokyo, 2006), staging by Guillaume Gallienne
Host at the opening ceremony of the CND in 2009
Teacher for Prague master classes (2012)
Artistic Director for the « Itinérances » official tour in France (2014)
Management and Leadership, Sciences Po Paris (2014)
Honors and Awards
Nicolas Le Riche was awarded the Cercle Carpeaux Prize in 1991, the AROP Prize in 1993, the Benois de la Danse Prize in 1995, the Saint Germain des Prés Prize in 1999,
the Nijinski Dance Prize in 2004 and the Outstanding Performance of the National Dance Award in London in 2013.
He is a Commander of Arts and Letters, a Knight of the National Order of Merit and a Knight of the Legion of Honor.
Nicolas Le Riche is a UNICEF sponsor for the Darfur children's vaccination initiative.