GENERAL INFORMATION
Location and Dates
Our International Ballet Summer School Program will take place in the Ballet Studios of the "Palucca University of Dance Dresden" (Germany).  The first day of classes start on Monday, August 05th.  The last day of classes is Saturday August 17th 2019.  This is a full 2-week program.
Ages Accepted
We welcome international participants from 14 until 25 years of age.
Official Registration / Suggested Arrival date: August 04th
Departure Date:  August 18th.
* Transportation from and to Dresden Airport will be provided 
* We accept student's Applications only for 2 weeks Summer Program.
DANCE CLASSES / SCHEDULE
All classes are offered in English language
Our International Faculty speaks English, German, Russian, French, Italian and Spanish
We have experience welcoming over 200 participants from 40 different nationalities each year in previous 10 years of Marina and Guy Ballet Summer School
All participants are divided into 6 Group Levels after the review of the Application Information, Photos and Videos.  The group level is relative and does not mean any superiority, levels are rather introduced to better serve individual needs of our participants.  The pre-assigned level can be changed by the Coaching Team during the first week of Summer Program
Each Group Level will have a different program appropriate to such level and its goals.
Please check Summer School Schedule page for more detailed information.
SPECIAL EVENTS AND DAYS OFF
Sunday August 11th  – Free day.  Participants will have an opportunity to explore historic Dresden, visit its art galleries or enjoy the beauties of this city.  All activities are optional.
Friday August 16th – Audition for the Palucca University of Dance Dresden and SemperOper Ballet Apprentice program
Saturday August 17th (12:00h – 14:30h)  – Final Public Presentation at the Palucca University of Dance (Participants performance)
* We welcome and encourage all parents and friends to attend the performance.
On Saturday August  17th (18:00h-22:00h) – Farewell Party for all teachers and participants.  The party will be held at Bella Italia restaurant, Gostritzer str. 2a, 01217 Dresden.
HOW TO APPLY ?
It is EASY!  Usual application process takes just few minutes, however please have several photos and images that may help us to evaluate the student and assign her or him to a proper level / group and make our acceptance decision.
Go to Application Form page, fill in all required information and attach required files (full-length photographs in ballet clothing in

first arabesque position (on relevé on pointe for girls )
développé a la seconde ( on relevé on pointe for girls )
jump of your choice
video of yourself (applicant) dancing a classical variation from repertoire or excerpt of a Ballet Class.
You can send your photos and video to: danceprogram@hotmail.com
* Parents must sign the Application Form for participants under 18 years of age.
Please allow us two weeks to process your form.  We will send you Confirmation Letter with further payment information once the decision is made.
DEADLINE
There are no registration deadline however the number of positions in each group / level is limited. To maintain high standards of teaching and quality of our program, we limit the total number of participants to only 200.   Please note that we receive on average over 1000 application each year.
Please do not delay to send us your application. As soon as a group Level is completed, the registration for this group will be closed.
WAITING LIST
Please note that we create a "Waiting List" in case of a participant cancellation which give the opportunity to others to join the course.  We will inform you about your position and will try to do everything possible to include you in our program!
PAYMENT / ACCEPTANCE CONFIRMATION

Once your application is accepted and approved, you will receive an invoice to finalize your registration in our Ballet Summer Course.  The funds must be received in 2 weeks after the receipt of the invoice. 
If payment is not received in 30 days after acceptance notification, your slot in our program will be considered lost and forfeited.  You will need to re-apply in order to receive second consideration.
You will be able to make payments online, via PayPal or direct wire transfer.    
Please check our Fees Page for further information.
CANCELLATIONS AND REFUNDS
The organizers reserve the right to retain 25% of the course fees in the event of the applicant's withdrawal, if cancellation occur before June 15th, 2019.
No refunds for the Summer Program or A&O Hostel will be made after "cut off" date (June 15th, 2019).
INSURANCES
It is mandatory that the participants obtain personal health, travel and accident insurance. The organization will not be held responsible for any damage or injury, however caused, to any person attending the course or third parties, not for the loss of any property, on or off the premises of the course or the premises of the A&O Hostel.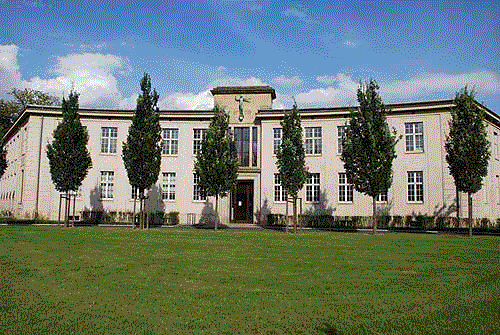 AUDITION
An Audition will be held on Friday, August 16th, 2019  for our Summer School participants for the School year program from the Palucca University of Dance Dresden. See Audition page for details.
OBSERVATION / PASSIVE TRAINING
We are offering the opportunity to Pedagogues and Dance professionals to attend classes and rehearsals of their choice in sort to enrich their knowledge and experience of different teaching methods.
FOOD ANS MEALS 
Breakfast:  The breakfast is included into the Hostel Fee and will be  served to all participants who are opting for  A&O Hostel accommodation.
Lunch:  All participants will receive full-service lunch at the Palucca University premise (Monday-Saturday).  The choice of ballet specific, cold and warm dishes, fruits, desserts, cold or warm drinks will be served.  The cost of lunch is included into the course fee. 
Dinner:  A&O Hostel residents will also have an option to include the dinner at additional cost of 8,50 euros per day to be served at the Hostel canteen.
In the daytime, participants can use the drinkable water fountain available at the University.
Participants are free to take their dinners at their own, where they desire, at their own expenses.
The perfect central location of the A&O Hostel allows you to find many places with international food for a reasonable price.
SAFE ENVIRONMENT
While A&O Hostel is located in walking distance to Dresden central railway station, city center and main city shopping destinations, it is also offering a safe environment to its guests.
TRANSPORTATION
We will offer FREE shuttle bus from Dresden Airport to the A&O Hostel on the Arrival day (Sunday August 04th) and from A&O Hostel to Dresden Airport on the Departure day (Sunday August 18th).

Participants are responsible for their transportation on all other arrival and departure dates.
SUGGESTED ACCOMMODATION 
The OFFICIAL "Marina and Guy Ballet Summer School Dresden" hotel for the event is A&O Hostel:
Approximately 6 minutes walking distance from the Main Train Station
25 minutes walking distance from the Palucca University of Dance Dresden
12 minutes by city Bus from the Palucca University of Dance Dresden.
Dresden offers a wide variety of hotels and apartments and you are welcome to explore other accommodation options.
MARINA & GUY SUGGESTED OFFICIAL ACCOMMODATION 
The accommodation is billed separately from Summer School Program Fees at current Hotel rates.
Please look at the Accommodation page for further information.
If you will opt for suggested accommodation at A&O Hostel, the pre-paid booking deadline is June 01st, 2019.  The payments should be made through "Marina and Guy Ballet Summer School" to allow us to better manage our groups.
There will be a full-time representative of Marina & Guy Ballet Summer School at Hotel premises 24 hours a day, every day.
ACTIVITIES
Sunday August 11th – Free day for teachers and participants. We recommend visiting the beautiful town of Dresden, the museums, and the numerous nearby castles…
Saturday August 17th – Presentation / Performance at the Palucca University of Dance Dresden
Saturday August 17th –  Farewell Party for all teachers and participants at the restaurant: Bella Italia, Gostritzer str.2a, 01217 Dresden.
Farewell party is optional, participants will be responsible for their meal and drinks at the restaurant.  We will offer tickets for those who would like to join us on this event. You will find this option in your payment options after being accepted for the course.
* The party is for official participants only. Parents and friends are not allowed.